NEW DESTINATIONSNEW EXPERIENCES
The Cosmopolitan 66 is a safe and spacious aluminum catamaran that has been carefully crafted to travel further afield and spend extended period of times in remote locations or, enjoying more transited destination, with improved capabilities and comfort.
The exterior is designed for optimal seaworthiness, even in the worst conditions.
Apart of an extensive study and testing to optimize hull design, our 66 model offers a very high bridge clearance of over one meter, improving the speed and maneuverability in certain sea-states but also the Cosmopolitan is the first cruising catamaran to offer a foil below both aft sections of the hulls improving the hull efficiency between 12 and 20% extending the range, increasing the speed and reducing the overall motions of the yacht when underway.
Generous circulation between the front cockpit, flybridge and aft cockpit with access to the swimplatforms, hydraulic platform for a tender of 5m and the toy garage has influenced the design process.
To achieve the maximum efficiency for the solar panels, one can opt for an electric bimini roof with the advantage of reducing windage in stormy conditions and improving the overall solar panel area available.
Practical elements for easy day-to-day operations are carefully integrated into the design such as: full-height storage lockers, multi-purpose storage locker close to the swimplatforms, diving gear handling and storage solutions, anchor and mooring design improvements, etc.
The total usable space of 275 m2 is extremely generous for a 66 foot boat. The salon and pilot house with 69m2 provide plenty of space for colder climates and a "never-seen-before" ocean view seating or standing, connecting the interior with the exterior surroundings, and allowing for a more fulfilling experience.
DESIGN
Interior Architecture
When we were first approached to take on the interior design of Cosmopolitan 66, our studio saw it as an opportunity to weave the notion of storytelling into the design approach. Design is often abstract, unreachable even, until it is related to something tangible and accesible in our human experience. Through a series of dialogues, investigations and inter-exchange of ideas, we dove deep into the fluid landscape that surrounded the Cosmopolitan 66 and it's guest onboard – the majestic ocean.
MAIN DECK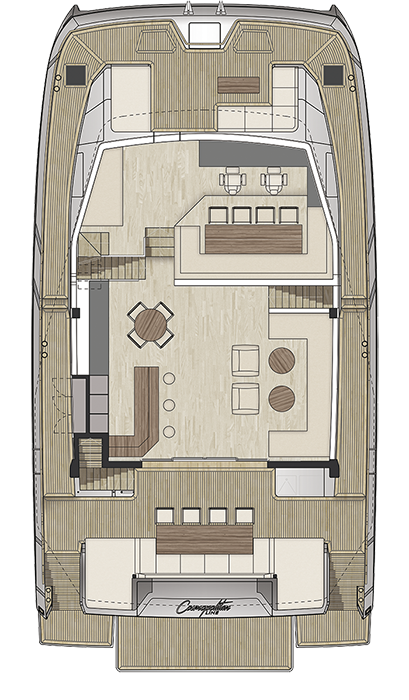 MAIN DECK GALLEY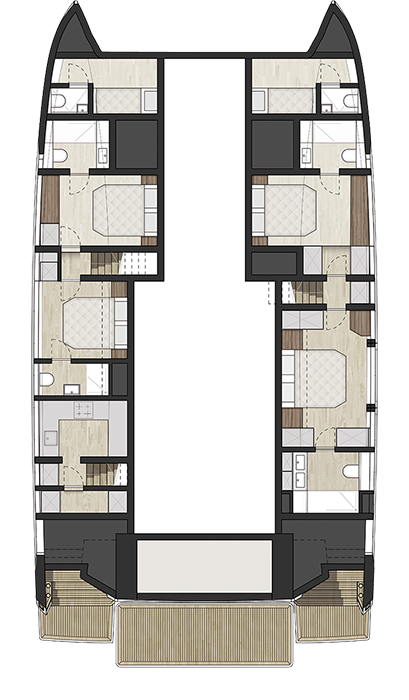 LOWER DECK - 4 Cabins
LOWER DECK - 5 Cabins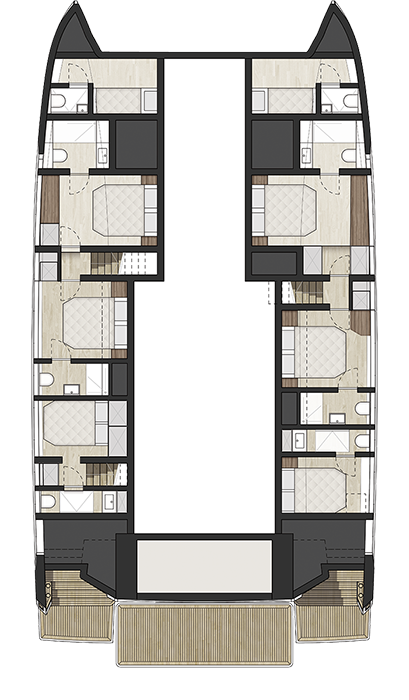 LOWER DECK - 6 Cabins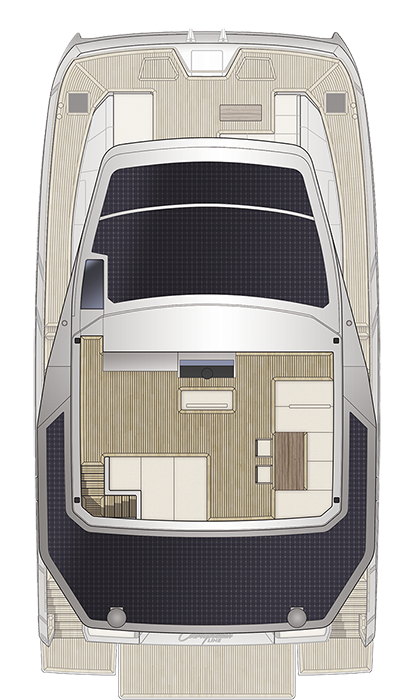 FLY DECK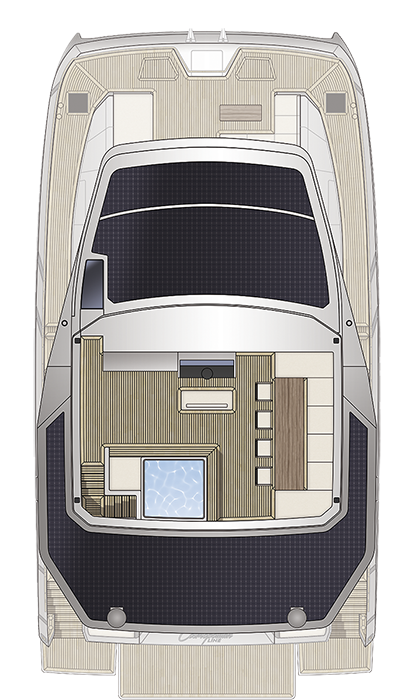 FLY DECK Pool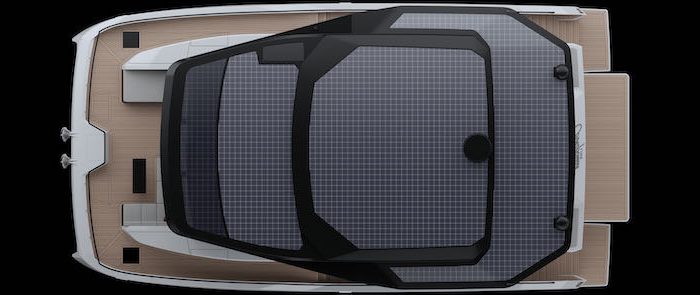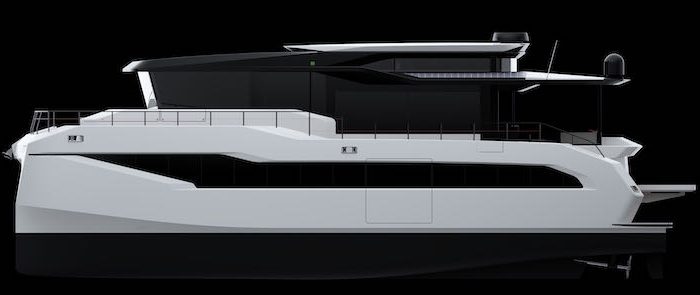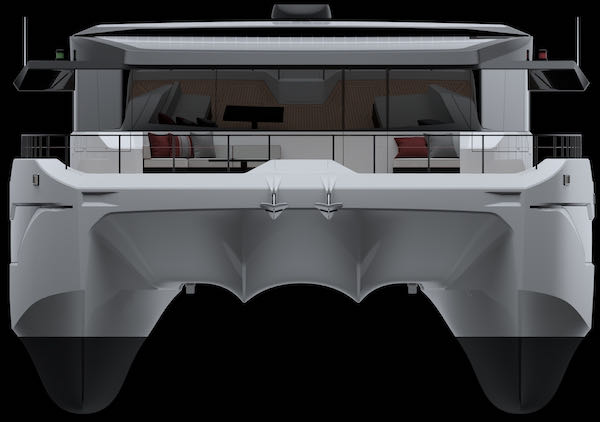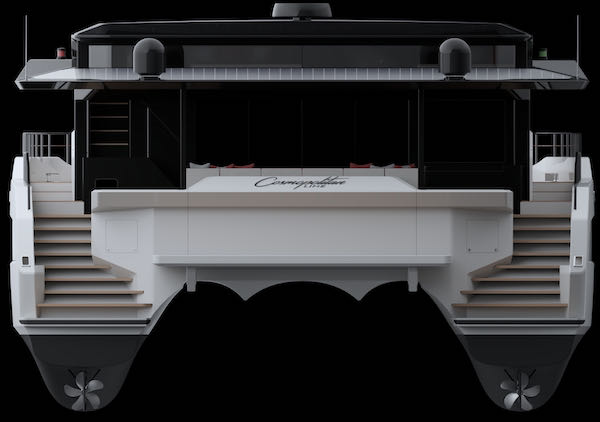 THE SPECS
COSMOPOLITAN 66
IN NUMBERS
LENGHT OVERALL
20,12 m / 66 ft
BEAM MAX.
10,67 m / 35 ft
SOLAR POWER GENERATION
17 kWp 
ELECTRICAL PROPULSIÓN / GENERATION OPTIONS:
2 x 180 kW direct drive electrical motors, batteries 300 kWh and 2 x DC generator 100 kW.
2 x 380 kW direct drive electrical motors, batteries 450 kWh and 2 x DC generator 150 kW.