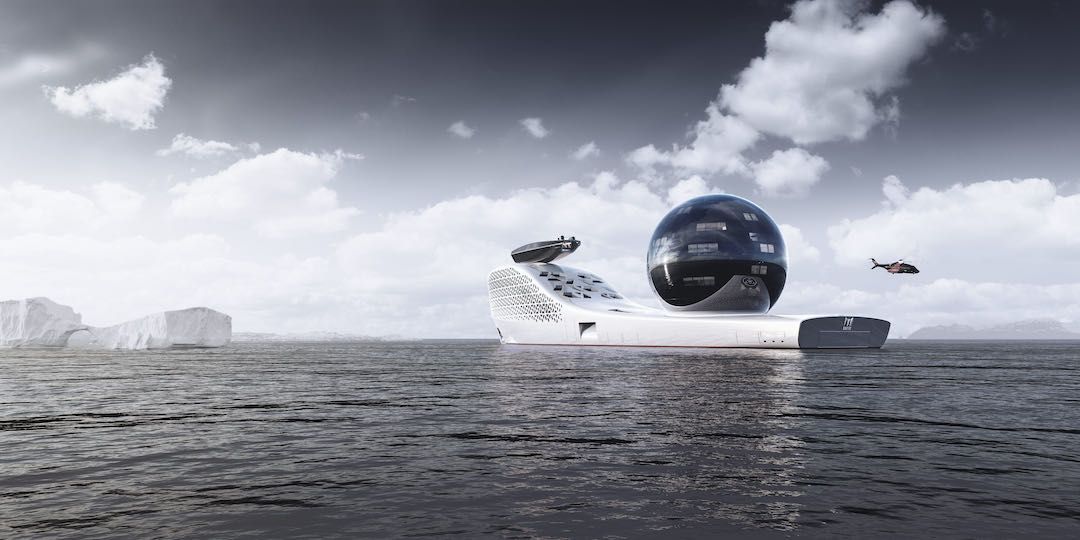 Global Design News
June 16, 2021
Designed by Iddes Yachts–led by naval architect Iván Salas Jefferson–and the Polish naval architecture firm NED-Project Ltd., the $3m Earth 300 Superyacht is set to launch in 2025, carrying a scientific "strike force" tasked with studying the earth's climate and coming up with plans to tackle global warming.
The design is radical, iconic, intelligent, and aesthetically pleasing.
Called Earth 300, the research vessel will feature a 13-storey Science Sphere, housing 22 laboratories and acting as a floating scientific hub.
Earth 300 will be powered by a molten salt reactor, a new form of atomic energy which uses molten fluoride salts as primary coolant.
This, according to the team behind Earth 300, will provide a "sustainable, clean energy needed to move ocean transportation into the future."
The project is the brainchild of Singapore-based entrepreneur Aaron Olivera and CEO of Earth 300 supported by his team headed by Chief Design Officer, Ivan Salas Jefferson.
"Our ambition for Earth 300 was fearless from the start: we wanted to build the Olympic Torch of global science, to expand our knowledge and understanding of the universe, both above and below the ocean's surface," Oliveira said.
"Earth 300 represents an unparalleled opportunity for academia and private enterprise to collaborate on the most pressing challenges of our time."
"We're bringing 160 of the brightest minds into our Science Sphere and equipping them with a level of technology never before seen on an ocean-going research vessel."
"It's a 300-metre fabrication of the future. The 13-storey Science Sphere and cantilevered Observation Deck are the most obvious and eye-catching examples."
According to Olivera, the preliminary vessel design of Earth 300 is ready and approved and the initial naval engineering is completed.
"We now have global partners who are supporting us with next stages," he added.
"We are living at a pivotal moment in human history, facing the greatest challenge since the dawn of man– climate change so our goal is to ring the climate alarm on a global scale and inspire an era of ecological imagination, spawning a new brand of planetary vanguard, ethical leaders who will support a new economic and ecological vision for the world."
The superyacht is set to launch in 2025.
Project: Earth 300 Superyacht
Designers: Ivan Salas Jefferson, Iddes Yachts
Naval Architects: NED-Project Ltd.
Manufacturer: Iddes Yachts
Client: Earth 300 Ventures Ptd., Ltd.