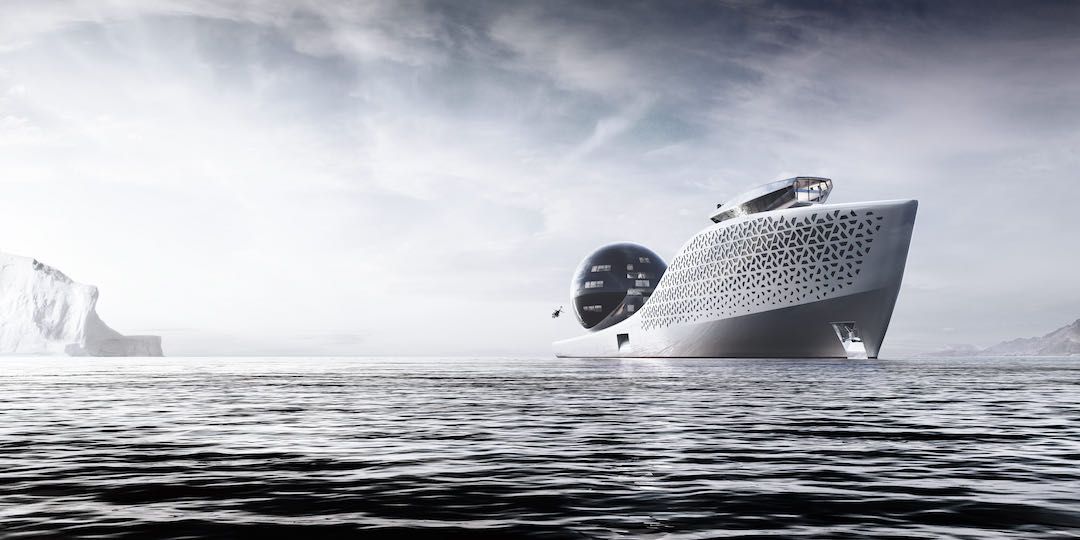 Francesca Webster
8 April 2021 | 14:00 (CEST)
Iddes Yachts' founder Ivan Salas Jefferson has launched the designer's newest concept, a 300-metre scientific exploration vessel, fully equipped with 22 state-of-the-art laboratories, the Earth300. The one hundred percent emission-free superyacht includes a number of radical design points, including a 13-story 'Science Sphere' and cantilevered observation deck.
Earth300's route to the ever elusive goal of 'carbon free', has been attained with the use of a Molten Salt Reactor (MSR), "a new generation of atomic energy that's safe, sustainable and 100% emission free". Earth300, championed by their CEO Aaron Olivera, is the first vessel to be powered by this innovative new technology.
The vessel has capacity to accommodate 160 scientists, 20 resident experts, 40 VIP guests and 20 students, as well as 160 crew members. Those aboard will be focused on pushing the scientific study of the world's oceans to the limits, with the vessel complete with quantum computer technology and Artificial Intelligence.
With support from a number of international partners including IBM, RINA, Triton Submarines and EYOS Expeditions, the projected launched date is set for 2025, with the preliminary design and naval engineering already complete.